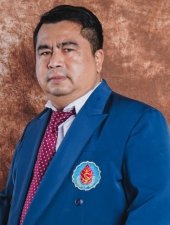 Nama Beserta Gelar | Full Name with Title
---
Ir. Rudy Agustriyanto S.T., M.Sc., Ph.D., IPM.
Biografi | Biography
---
Rudy Agustriyanto (https://www.scopus.com/authid/detail.uri?authorId=6507829190) received his first degree in Chemical Engineering from Institut Teknologi Sepuluh Nopember (ITS), Indonesia, in 1996. MSc in applied Process Control (with Distinction) in 2000 and PhD in Chemical and Process Engineering in 2008, both from Newcastle University, UK. He has been a lecturer at University of Surabaya, Indonesia since 1998. He was accredited as Certified Lecturer in 2011, and in 2016 he was accredited as Insinyur Profesional Madya (IPM) by PII. His research interest include process control, control structure selection, simulation, modeling, and bio-process control.
Publikasi | Publication
---
JUDUL
FORUM
Simulation of Continuous Bio-Reactor
2015-09-09
The 8th International Conference of Chemical Engineering on Science and Applications (Chesa) 2015
Banda Aceh
Indonesia
Durian Processing Technology for Fruit Farmers
2015-09-09
The 8th International Conference of Chemical Engineering on Science and Applications (Chesa) 2015
Banda Aceh
Indonesia
Kinetic Study of Enzymatic Hydrolysis of Acid-Pretreated Coconut Coir
2015-09-29
International Conference on Chemical and Material Engineering 2015
Grand Candi Hotel Semarang
Indonesia
Power Model for Enzymatic Hydrolysis of Coconut Coir with Chemical Pretreatment
2016-02-09
Pure and Applied Chemistry International Conference 2016 (PACCON2016)
BITEC, Bangkok
Thailand
Model Kuasa untuk Hidrolisa Enzimatik Kulit Kelapa dengan Delignifikasi Asam Sulfat
2016-03-17
Seminar Nasional Teknik Kimia
UPN "Veteran" Yogyakarta
Indonesia
Implementasi Pembelajaran Mata Kuliah Kewirausahaan di Fakultas Teknik Universitas Surabaya (UBAYA)
2016-05-03
ROUNDTABLE for INDONESIAN ENTREPRENEURSHIP EDUCATORS (RIEE-2016)
Universitas Negeri Malang
Indonesia
The Effect of Temperature on the Production of Nitrobenzene
2016-09-15
11th Joint Conference on Chemistry
Purwokerto
Indonesia
PI Control of a Continuous Bio-Reactor
2016-10-04
The 6th Annual International Conference (AIC)
Banda Aceh
Indonesia
Pengaruh Rasio Asam Sulfat terhadap Asam Nitrat pada Sintesis Nitrobenzena dalam CSTR
2017-02-04
Seminar Nasional Inovasi Dan Aplikasi Teknologi Di Industri 2017
ITN Malang
Indonesia
SIMULATION OF A PID CONTROL STRATEGY FOR CONTINUOUS BIOREACTOR
2017-07-23
17th Asian Chemical Congress
Melbourne
Australia
Closed Loop Simulation of Decentralized Control using RGA for Uncertain Binary Distillation Column
2017-08-24
International Conference on Informatics, Technology and Engineering 2017 (InCITE 2017)
Bali
Indonesia
Perbandingan Kinerja Penyetelan Hagglund-Astorm dan Tyreus-Luyben pada Sistem Kendali Pendinginan Susu
2018-09-06
Seminar Nasional Teknik Kimia UNPAR 2018
Bandung
Indonesia
Pickering W/O/W Double Emulsion Stabilized by Rice Husk Silica
2019-09-24
ACCIS 2019 (The 8th Asian Conference on Colloid and Interface Science)
Kathmandu
Nepal
Mass transfer kinetic model and removal capacity of acid blue 29 adsorption onto activated carbon
2019-08-22
International Conference on Informatics, Technology, and Engineering 2019 (InCITE 2019)
The Anvaya Beach Resort Bali Jalan Kartika Plaza, Tuban, Kuta Kabupaten Badung, Bali 80361
INDONESIA
Regulatory Performance of Two Different Tuning Method for Milk Cooling Control System
2019-08-22
International Conference on Informatics, Technology, and Engineering 2019 (InCITE 2019)
The Anvaya Resort in Denpasar, Bali, Indonesia
Indonesia
Simulation of a Proportional-Integral-Derivative Control for Continuous Bioreactor
2019-09-11
International Conference on Industrial Technology (ICONIT)
Balikpapan
Indonesia
Mass Transfer Modeling of Acid Violet 17 Adsorption onto Activated Carbon
2019-09-11
INTERNATIONAL CONFERENCE ON INDUSTRIAL TECHNOLOGY (ICONIT) - 2019
Balikpapan
Indonesia
Mass Transfer Modeling of Acid Violet 17 Adsorption onto Activated Carbon
2019-09-11
INTERNATIONAL CONFERENCE ON INDUSTRIAL TECHNOLOGY (ICONIT) - 2019
Balikpapan
Indonesia
Rice Husk Ash for the Stabilization of the Outer Interfacial Layer of W/O/W Double Emulsion
2021-08-25
International Conference on Informatics, Technology, and Engineering (InCite) 2021
Surabaya (online)
Indonesia
Dynamic Study of Batch Milk Cooling Process at KUD SAE Pujon
2021-08-25
International Conference on Informatics, Technology, and Engineering (InCite) 2021
Surabaya
Indonesia
Riwayat Ajar | Courses Taught
---
2022
| | |
| --- | --- |
| Desain Alat | Equipment Design |
| KEWIRAUSAHAAN DAN INOVASI | INNOVATION AND ENTREPRENEURSHIP |
| Komputasi Numerik Terapan | Applied Numerical Computation |
| Komputasi Proses Pangan | Food Process Computation |
| Manajemen | Management |
| Manusia & Pengembangan Diri | Human and Self Development |
| Manusia dan Pengembangan Diri | Human and Self Development |
| Pengendalian Proses | Process Control |
| Perancangan Pabrik Kimia | Chemical Plant Design |
| Proses Industri Kimia | Chemical Process Industry |