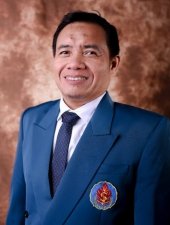 Nama Beserta Gelar | Full Name with Title
---
Dr. Joko Siswantoro S.Si., M.Si.
Biografi | Biography
---
Dr. Joko Siswantoro obtained first degree in mathematics from Airlangga University in 1997 and master degree in applied mathematics from Institut Teknologi Bandung in 2002. He completed Ph.D in computer science in 2016 at Universiti Kebangsaan Malaysia. His expertise areas include Data Science, Machine Learning, Digital Image Processing, Computer Vision, and Optimization. His current positions are Associate Professor and Head of Informatics Engineering Department, University of Surabaya.
Scopus: http://www.scopus.com/authid/detail.uri?authorId=56192714800
Google Scholar: https://scholar.google.com/citations?user=aexhi0oAAAAJ
Publikasi | Publication
---
JUDUL
FORUM
Automatic Image Segmentation using Sobel Operator and k-Means Clustering: A Case Study in Volume Measurement System for Food Products
2015-10-27
The 2015 International Conference on Science in Information Technology (ICSITech 2015)
Yogyakarta
Indonesia
A New Framework for Measuring Volume of Axisymmetric Food Products using Computer Vision System Based on Spline Cubic Interpolation
2016-10-26
2016 2nd International Conference on Science in Information Technology (ICSITech)
Gran Senyiur Hotel Jl. A.R.S Mohammad 7 Balikpapan
Indonesia
Computer vision system for egg volume prediction using backpropagation neural network
2017-08-24
International Conference on Informatics, Technology and Engineering 2017 (InCITE 2017)
Discovery Kartika Plaza Hotel Bali
Indonesia
Estimasi Bobot Telur Menggunakan Jaringan Syaraf Tiruan Berdasarkan Properti Geometri dari Citra Digital
2018-07-24
Konferensi Nasional Matematika (KNM) XIX 2018
Universitas Brawijaya Malang
Indonesia
Image Based Leaf Area Measurement Method Using Artificial Neural Network
2019-03-13
International Conference of Artificial Intelligence and Information Technology (ICAIIT) 2019
Platinum Adisucipto Hotel & Conference Center, Yogyakarta
Indonesia
Image Based Indonesian Fruit Recognition using MPEG-7 Color Structure Descriptor and k-Nearest Neighbor
2019-08-22
International Conference on Informatics, Technology, and Engineering 2019 (InCITE 2019)
The Anvaya Resort in Denpasar, Bali
Indonesia
Computer Vision System in Measurement of the Volume and Mass of Egg using the Disc Method
2019-08-22
InCITE 2019 (International Conference on Informatics, Technology, and Engineering 2019)
The Anvaya Beach Resort Bali
Indonesia
Fruits Classification from Image using MPEG-7 Visual Descriptors and Extreme Learning Machine
2020-12-10
The 2020 3rd International Seminar on Research of Information Technology and Intelligent Systems (ISRITI)
Virtual (Online)
Indonesia
Riwayat Ajar | Courses Taught
---
2022
| | |
| --- | --- |
| Algorithm and Programming | Algorithm and Programming |
| Machine Learning | Machine Learning |
| Modeling and Simulation | Modeling and Simulation |
| Research Methodology | Research Methodology |
2021
| | |
| --- | --- |
| Algorithm and Programming | Algorithm and Programming |
| Aljabar Linier | Linear Algebra |
| Applied Multivariate Analysis | Applied Multivariate Analysis |
| Machine Learning | Machine Learning |
| Mathematics | Mathematics |
| Object Oriented Programming | Object Oriented Programming |
| Research Methodology | Research Methodology |
| Special Topic in DSAI | Special Topic in DSAI |