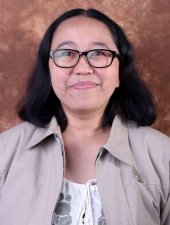 Nama Beserta Gelar | Full Name with Title
---
Inge Christanti S.S., M.Hum.Rights Prac.
Biografi | Biography
---
Inge Christanti is one of researcher at Centre for Human Rights Studies of University of Surabaya (CHRS Ubaya). She has been joined this research centre since 2002 and has done some research using human rights based approach. She also invited in several seminar and training to share her knowledge on human rights. Prior to that, she became a volunteer in some community service program in Surabaya, Indonesia.
In 2006, she finised her master degree (Master of Human Rights Practice) at Curtin University of Technology, Perth-Western Australia. Besides conducting research, she manages periodical publication for this centre as editor of CHRS Ubaya's human rights journal. She also involves as coordinator or manager in several training, seminar and discussion which was conducted by CHRS Ubaya.
Publikasi | Publication
---
JUDUL
FORUM
HUMAN RIGHTS EDUCATION THROUGH CHILDREN FABLE: CONTENT ANALYSIS OF HUMAN RIGHTS VALUES
2019-07-17
5th Internasional Conference on Contemporary Social and Political Affairs "Transformation of Nation State and Global Society on Gender Equality and Social Inclusion"
Kampus C Unair dan Oakwood Hotel Surabaya
Indonesia
Riwayat Ajar | Courses Taught
---
2021
| | |
| --- | --- |
| PANCASILA AND CIVIL EDUCATION | PANCASILA AND CIVIL EDUCATION |
| Pancasila dan Kewarganegaraan | Pancasila and Citizenship |
| PENDIDIKAN PANCASILA DAN KEWARGANEGARAAN | PANCASILA AND CIVIL EDUCATION |
2020
| | |
| --- | --- |
| Pancasila dan Kewarganegaraan | Pancasila and Civic Education |