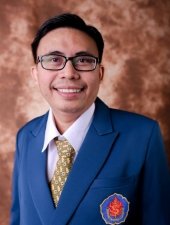 Nama Beserta Gelar | Full Name with Title
---
Hendi Wicaksono Agung Darminto S.T., M.T., Ph.D., CIQaR
Biografi | Biography
---
[Ph.D.] in Electronics and Communication. Sirindhorn International Institute of Technology, Thammasat University, Thailand, 2022. Thesis Title: Hierarchical Decentralized LQR Control Design for Formation-Keeping of Cooperative Mobile Robots in Material Transport Tasks.
[M.Eng.] in Biomedical Electrical Engineering. Institut Teknologi Sepuluh Nopember, Indonesia, 2009. Thesis Title: Fuzzy Controller Type-2 Based on Cycle-to-cycle Method for Swing Phase Gait Restoration using Functional Electrical Stimulation.
[B.Eng.] in Electrical Engineering. University of Surabaya, Indonesia, 2003. Final Project Title: Turtle Cybernetics.
Publikasi | Publication
---
JUDUL
FORUM
Altitude Lock Capability Benchmarking: Type2 Fuzzy, Type1 Fuzzy, and Fuzzy-PID with Extreme Altitude Change as a Disturbance
2015-09-09
ICESTI
Patra Jasa Bali Resort and Villas, Kuta, the island paradise of Bali
Indonesia
A Fast Geometric Type2 Fuzzy Controller Using Barometric Sensor for Altitude Stabilization QuadRotor
2015-10-29
ICITEE 2015
Le Meredien Chiang Mai
Thailand
Optimizing Ultrasonic and Barometric Sensor for Quadcopter s Altitude-Hold Using YoHe V1.2 PID and KK V2.0 Board
2016-08-10
ISSIMM 2016
Malang
Indonesia
Riwayat Ajar | Courses Taught
---
2022
| | |
| --- | --- |
| Gambar Teknik | Technical Drawing |
| Otomasi Industri | Industrial Automation |
| Rangkaian Listrik | Circuit Analysis |
2021
| | |
| --- | --- |
| Gambar Teknik | Technical Drawing |
| Mikrokontroler | Microcontroller |
| Otomasi Industri | Industrial Automation |
| Rangkaian Listrik | Circuit Analysis |
| Robotika | Robotics |