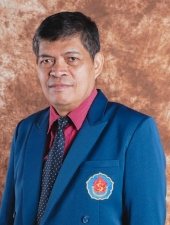 Nama Beserta Gelar | Full Name with Title
---
Elieser Tarigan S.Si., M.Eng., Ph.D.
Biografi | Biography
---
Education:
2003 – 2006
Ph.D., PhD at The Joint Graduate School of Energy and Environment (JGSEE),
King Mongkut's University of Technology Thonburi(KMUTT) -Thailand.
Subject of research: Solar drying for agricultural products
2002 - 2003
Master (M.Eng.) at European Solar Energy School (ESES), Dalarna University, Sweden.
Subject of thesis: renewable energy education.
1992 - 1996
Undergraduate (B.S) at Institute of Technology Surabaya, Indonesia.
Major of studies: physics sciences.
Interests:
Publikasi | Publication
---
JUDUL
FORUM
Study of PV Powered Air Conditioning for a Classroom of University of Surabaya
2015-09-07
2015 3rd International Conference on Technology, Informatics, Management, Engineering & Environment
Samosir, Sumatra Utara
Indonesia
Proses Pengeringan Rimpang Temulawak (Curcuma Zanthorriza) dengan Penjemuran Langsung dan Passive Solar Dryer
2016-06-01
Seminar Nasional Teknik Kimia Soebardjo Brotohardjono XII
Hotel Santica jln Jemursari 258 Surabaya
Indonesia
Simulation of Energy Savings in a Six Floor Library Building University of Surabaya
2016-08-30
Engineering Science and Technology International Conference (ESTIC 2016)
Padang, Sumatra Barat
Indonesia
Study of Solar Electricity Powered Air Conditioner in a Tropical Hot Climate
2016-10-31
8th International Conference on Electrical Power, Electronics, Communications, Controls and Informatics System 2016 (EECCIS 2016)
Malang
Indonesia
Study of Drying Kinetics of Curcuma Xanthorrhiza
2016-10-20
International Conference on Natural Resources and Life Sciences (NRLS-2016)
Surabaya
Indonesia
Photovoltaic Solar Energy Simulation of Rooftops of a University Campus Buildings in Surabaya, Indonesia
2016-11-11
First EAI International Conference on Computer Science and Engineering
Penang
Malaysia
Pengeringan Rimpang Jahe (Zingiber Officinale) dan Model Matematis Pengeringannya
2017-05-04
Seminar Nasional Teknik Kimia UNPAR 2017
Bandung
Indonesia
ANALISIS POTENSI ATAP BANGUNAN KAMPUS SEBAGAI LOKASI PENEMPATAN PANEL SURYA SEBAGAI SUMBER LISTRIK
2017-03-24
Seminar Nasional Riset Multidisiplin 2017
Jakarta
Indonesia
Techno economic feasibility analysis of stand-alone PV system for household at urban area of Surabaya, Indonesia
2017-05-05
2nd International Conference of Computer, Environment, Social Science, Health Science, Agriculture & Technology (ICEST)
Medan, Sumatra Utara
Indonesia
Performance test of a grid-tied PV system to power a split air conditioner system in Surabaya
2017-08-24
InCITE 2017
Bali
Indonesia
Nontechnical challenges in solar PV system applications in urban area of Indonesia: review of recent literature and lesson learned from personal experience
2018-03-24
2018 2nd International Conference on Green Energy and Applications
Nanyang Technological University, Singapore
Singapura
Simulation and Economic Analysis of Solar Cooling for Building in Tropical Climates in Surabaya, Indonesia
2018-07-03
The International Cooperation for Education about Standardization (ICES 2018)
Yogyakarta
Indonesia
Kajian Pengelolaan Sampah Fakultas Farmasi dalam Mendukung Program Green Campus Universitas Surabaya
2018-07-04
Seminar Nasional Soebardjo Brotohardjono XIV
Hotel Santika Jemursari Surabaya
Indonesia
Energy Saving Measures and Potential of Energy Efficiency at the University of Surabaya, Based on EDGE Simulation
2018-09-26
International Conference on Information Technology, Computer and Electrical Engineering (ICITACEE)
Semarang
Indonesia
Understanding Public Perception of Domestic Solar Water Heating System: Case study in Surabaya, Indonesia
2018-11-08
Conference on Innovation in Technology and Engineering Science (CITES) 2018
Padang
Indonesia
The Effect of Dust on Solar PV System Energy Output Under Urban Climate of Surabaya, Indonesia
2019-01-21
The Conference on Fundamental and Applied Science for Advanced Technology (ConFAST) 2019
Universitas Ahmad Dahlan, Yogyakarta
Indonesia
Drying of Celery Leaves (Apiumgraveolens L.)using a PV/T Solar Dryer
2019-08-22
International Conference on Informatics, Technology, and Engineering (InCite) 2019
Anvaya Hotel, Bali
Indonesia
Amorphous Solar Module for PV-T Collector for Solar Dryer
2019-11-07
The 6th IEEE Conference on Sustainable Utilization and Development in Engineering and Technology (2019 IEEE CSUDET)
Penang
Malaysia
Technical, economic and environmental analysis of residential scale of the rooftop PV system in Surabaya, Indonesia
2020-01-13
2020 2nd International Conference on Smart Grid and Green Energy (SGGE 2020)
Bali
Indonesia
Review of Solar Photovoltaic Android-Based Applications for Smartphone and Tablet
2020-06-25
The 3rd International Conference on Mechanical, Electronics, Computer, and Industrial Technology (MECnIT 2020)
Medan
Indonesia
Hybrid PV-T Solar Collector using Amorphous Type of Solar Cells for Solar Dryer
2020-07-22
2020 International Seminar on Intelligent Technology and Its Applications (ISITIA)
Surabaya
Indonesia
Simulation of the Floating PV System to Supply Electricity Demand for the City of Surabaya, Indonesia
2021-02-02
6th International Conference on Renewable Energy: Generation and Applications, ICREG'21
Virtual (online)
Uni Emirat Arab
Comparison of PV System Energy Output Between with and Without Solar Tracking: Simulation in a Mountain Area in Indonesia
2021-07-07
International Conference on Green Energy, Computing and Sustainable Technology (GECOST 2021)
Virtual
Malaysia
Energy Output Simulation of the Floating PV System of Karangkates Hydropower Dam in East Java, Indonesia
2021-07-21
The International Seminar on Intelligent Technology and Its Applications (ISITIA)
Virtual
Indonesia
Simulation of Impact Azimuth Angle on Specific Energy Output of a Fixed Mounting Rooftop PV System in Jakarta, Indonesia
2021-08-25
3rd biannual International Conference on Informatics, Technology, and Engineering 2021 (InCITE 2021)
Virtual
Indonesia
Solar Hydrogen Option to Reach Renewable and Climate Change Targets of Indonesia
2021-12-17
International Conference on Sustainability and Equity, 2021
Virtual
India
Comparison of energy production between fixed-mount and tracking systems of solar PV systems in Jakarta, Indonesia
2022-08-16
SET 2022 – the 19th International Conference on Sustainable Energy Technologies
Istanbul
Turki
Azimuth Angle Impact on Specific Energy Output of Rooftops PV System in Surabaya, Indonesia
2022-08-25
The 9th International Conference on Information Technology, Computer, and Electrical Engineering
Semarang
Indonesia
Simulation of the Floating PV System at Sigura-Gura Hydropower Dam in North Sumatera, Indonesia
2022-08-23
The 11th Electrical Power, Electronics, Communications, Control, and Informatics Seminar (EECCIS)
Virtual
Indonesia
Performance of 3 kWp Rooftop PV System in Ubaya Building, Indonesia
2022-10-26
International Conference on Green Energy, Computing and Sustainable Technology (GECOST 2022)
Virtual
Malaysia
Riwayat Ajar | Courses Taught
---
2022
| | |
| --- | --- |
| Fisika Dasar | Fundamental of Physics |
| Fisika Listrik dan Magnet | Physics of Electrical and Magnet |
| Fisika Teknik | Engineering Physics |
| Fisika Teknik Elektro | Physics for Electrical Engineering |
| Lingkung Bisnis | Business Environment |
| Renewable Energy | Renewable Energy |
| Teknologi Energi Terbarukan | Renewable Energy Technology |