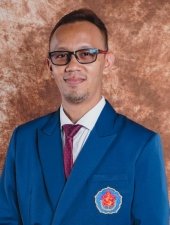 Nama Beserta Gelar | Full Name with Title
---
Dr. Delta Ardy Prima S.ST., M.T.
Biografi | Biography
---
Delta Ardy Prima received the Bachelor degree in information technology from Electrical Engineering Polytechnic Institute of Surabaya (EEPIS-ITS), Surabaya in 2007.
He received both of his Master and Doctoral degree from Electrical Engineering Department of Institut Teknologi Sepuluh Nopember (ITS), Surabaya in 2011 and 2017.
He also studied Human Informatics and Cyber Communication in Kumamoto university.
Publikasi | Publication
---
JUDUL
FORUM
Smart Urban Farming Using Arduino in Residential Area
2019-08-22
InCITE 2019 (International Conference on Informatics, Technology, and Engineering 2019)
Bali
Indonesia
FSM Based Virtual Camera Control for Earthquake Evacuation Simulation
2019-08-22
InCITE 2019 (International Conference on Informatics, Technology, and Engineering 2019)
Bali
Indonesia
Implementation of Behavior Tree for Creating an In-Game Cut-Scene
2021-08-25
InCITE 2021 (International Conference on Informatics, Technology, and Engineering 2021)
Surabaya
Indonesia
Riwayat Ajar | Courses Taught
---
2022
| | |
| --- | --- |
| Computer Organization and Architecture | Computer Organization and Architecture |
| Game Programming | Game Programming |
| Immersive Computing | Immersive Computing |
| Interaction Design I | Interaction Design I |
| Interaction Design II | Interaction Design II |
| Internet of Things | Internet of Things |
| Introduction to Computer Science | Introduction to Computer Science |
| KEWIRAUSAHAAN DAN INOVASI | INNOVATION AND ENTREPRENEURSHIP |
| Mixed Reality | Mixed Reality |
| Operating System | Operating System |