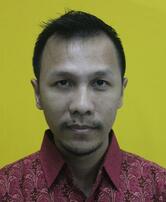 Nama Beserta Gelar | Full Name with Title
---
Anton Hendrik Samudra S.H., M.H.
Biografi | Biography
---
I have been working as a senior assistant professor at the Criminal Law Department for seven years and counting, and I had been working as the Head of the department from 2019 until 2022 at Faculty of Law, University of Surabaya. I took my master's degree in 2010 and graduated as a first-class honours and as the best of the class in 2011 at Master of Law Programme, Faculty of Law University of Airlangga. My research interest is cybercrime and the criminal law. I had been serving as the Managing Editor of Jurnal Yustika: Media Hukum dan Keadilan Law Journal from 2018 until 2022, and now I am serving as the Editorial Board of it. I also had been serving as a consultant in Law Service and Legal Aid Bureau at the faculty, and also have been actively involved in one of the social NGOs in Surabaya. Currently, I am working as a full-time postgraduate researcher at University of Leeds with a full scholarship from the Puslapdik-LPDP, the Republic of Indonesia. My research is centred around the cybercrime and the law enforcement. I had several research of the deterrence of technology-aided crimes, such as hoax distribution, cyberhate and computer-mediated fraud. Currently I am looking to expand on electronic evidence presentation in evidentiary process and the judge's conviction in cybercrime case in inquisitorial system. Several projects I have done: Oct 2020 - Sep 2022: Cyber-hate prevention system for Twitter: Detection using K-Nearest Neighbour. I conducted this inter-discipline research with a colleague from Informatics Faculty. This research proposed a cyber-hate detection system, since many cases has been happening. The legal science employed to make the formula of the detection, while informatics science was to make the program. Projects: Creating a prototype of cyber-hate detection system for Twitter application. Mar 2017 - Mar 2018: The role of telecommunication service provider in prevention and tackling online transaction fraud in Surabaya I completed this research with the cooperation from Indonesian Association of Telecommunication Business Professionals (ATSI). Several interactions with the Ministry of Communication and Informatics office also carried to answer empirical problems of personal data issues of MSISDN registration to prevent online transaction fraud. Mar 2018 - Nov 2019: Integration-oriented system in corporation in prevention of bribery and corruption (Funded by Republic of Indonesia Ministry of Research, Technology and Higher Education) I was involved in research which found that good corporate governance was not sufficient to prevent corruption in private sector, especially bribery. The team proposed a new system that implementable in private corporations, and the system is created by looking at the pattern of daily activities of respondents, as well as the pattern of policy implementation. Projects: To create a system that respond the issues on good corporate governance implementation which considered failed to prevent bribery and corruption in private company, namely Integration-oriented system. Dec 2015 - Dec 2016: Deterrence of online transaction fraud in Surabaya and surroundings I completed this research with the cooperation from East Java Provincial Police in Surabaya. Projects: To profile the modus operandi of online transaction fraud cases reported to the cybercrime unit of East Java Provincial Police, and to examine the legal restraint on the norm provided by Electronic Information and Transaction Law and the norms in relation with the general rule of criminal law (Indonesia Criminal Code). The result of the project was also establishing guidelines on implementation of the norm in the law enforcement.
Publikasi | Publication
---
JUDUL
FORUM
Tightening the Loose Ends to Eradicate Credit Card Fraud: Looking at Credit Card Skimming Case in Indonesia
2018-10-29
International Conference of Law and Free Trade 2018
Garden Palace Hotel Surabaya
Indonesia
Hate Speech Content Detection System on Twitter using K-Nearest Neighbor Method
2021-08-25
3rd biannual International Conference on Informatics, Technology, and Engineering 2021 (InCITE 2021)
Online
Indonesia
Riwayat Ajar | Courses Taught
---
2022
| | |
| --- | --- |
| Kapita Selekta Hukum Pidana | Anthology of Selected Topics in Criminal |
| Kejahatan Ekonomi | Economic Crimes |
| Kejahatan Siber | Cyber Crime |
| Kejahatan Transnasional | Transnational Crime |
| Legal Aspect in Economy | LEGAL ASPECT IN ECONOMY |
| LITERASI DIGITAL | DIGITAL LITERACY |