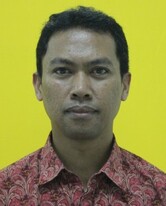 Nama Beserta Gelar | Full Name with Title
---
Alasen Sembiring Milala S.Si., M.Si., Apt.
Biografi | Biography
---
Alasen Sembiring is Head of Professional Pharmacy Education Program. He received a Bachelor's degree, Pharmacists and Masters at the University of Gadjah Mada, Yogyakarta. Alasen joined as a member of Indonesian Pharmacist Association and the Pharmaceutical Industry Association. He had ever received grants from the Higher Education are as follows. Young Lecturer Research Grant in 2006 and 2007, grants Community Services in 2012 and 2013 and grants Textbook of 2013.
Publikasi | Publication
---
JUDUL
FORUM
The Formulation and Antibacterial Activity of Hand Sanitizer Gels Containing Red Betel (Piper crocatum Ruiz & Pav.) Leaves Extract as An Active Compound
2015-11-28
Seminar Nasional Farmasi Universitas Jember 2015
Ballroom Hotel Aston Jember
Indonesia
Formulasi dan Aktivitas Antibakteri Gel Hand Sanitizer Ekstrak Air Daun Sirih Merah
2016-09-28
RAKERNAS & PIT IAI 2016 : Developing Pharmacist Role for Better Quality of Life in AEC Era
Ball Room The Alana Yogyakarta Hotel & Convention Center Sleman Yogyakarta
Indonesia
STERILITAS LINEN BASAH YANG TELAH DISTERILKAN DENGAN STEAM STERILIZER DI RSUD DR SOETOMO
2017-11-16
Seminar Nasional APTFI 2
Hotel Golden Tulip Banjarmasin
INDONESIA
Pengaruh Penundaan Waktu Sterilisasi Selama 3 dan 4 Hari terhadap Sterilitas dan Kadar Bahan Aktif Sediaan Infus Dekstrosa 5%
2018-04-19
Kongres XX & PIT IAI 2018
Labersa Grand Hotel and Convention Center Jl. Labersa, Tanah Merah, Pekanbaru - Riau
Indonesia
EFFECT OF PEG 400, PEG 4000 AND PEG 6000 AS A SUPPOSITORIA BASE ON PARASETAMOL DISSOLUTION RATE
2018-10-23
The 3rd International Seminar on Pharmaceutical Sciences and Technology
Bale Sawala, Rektorat Universitas Padjadjaran, Jl. Bandung-Sumedang KM 21, Jatinangor, Sumedang
Indonesia
Sterility of Ringer Lactate and 5% Dextrose Infusion Traded Through Online Shops
2019-11-14
The 3rd International Conference on Pharmacy Education and Research Network of ASEAN (ASEAN PharmNET 2019)
Royal Ambarrukmo Hotel, Yogyakarta
Indonesia
Riwayat Ajar | Courses Taught
---
2022
| | |
| --- | --- |
| FARMASI INDUSTRI II | INDUSTRIAL PHARMACY II |
| Profesi Farmasi | Pharmacy Profession |
| Teknologi Sediaan Steril | Sterile Pharmaceutical Manufacturing |
2021
| | |
| --- | --- |
| Desain Sediaan Farmasi | Pharmaceutical Dosage Forms Design |
| FARMASI INDUSTRI II | INDUSTRIAL PHARMACY II |
| Pengobatan Herbal Berbasis Bukti | Evidance-based Herbal Medicine |
| Profesi Farmasi | Pharmacy Profession |
| Sistem Neuropsikiatri | Neuropsychiatric System |
| Teknologi Sediaan Steril | Sterile Pharmaceutical Manufacturing |